Dr. John Lloyd Newcomb, the president of the University of Virginia, called for the opening of a new Naval ROTC Unit on Grounds in 1940. The Unit was opened in July, nearly a full year before the United States entered World War II. The University of Virginia became only the tenth university in the country to have an ROTC program.
Since its inauguration, the Naval ROTC program has owned two buildings, worked out of four, and seen 30 different Professors of Naval Science (PNS). Originally, the program worked from Washington Hall and Hotel B in the East Range and used Thorton Hall for the Unit's armory. In 1941, the building of a separate Naval ROTC building was initiated. Built for $140,000 and finished a year later, John W. Warner Hall, formerly Maury Hall, has been the home for the Naval ROTC program for the past 70 years.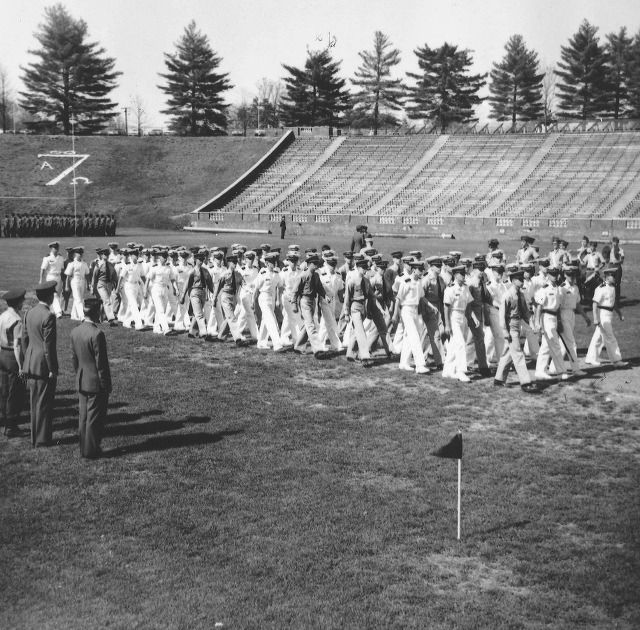 In 1953, the ROTC Unit expanded into another building next door, now known as Halsey Hall. Halsey Hall served as the armory and drill deck for Midshipman during inclement weather.
During the Vietnam War, the Unit became the focal point for Anti-War protests on grounds. Drill periods were often interrupted by angry protestors, and in 1970 Maury Hall was invaded and vandalized by a group of 200 students.
In 1975, Dorothy Nichols became the Unit's first woman to graduate and receive a commission through the UVA NROTC program.
Although both Warner Hall and Halsey Hall were originally owned and operated exclusively by the Navy, the expanding needs of the University meant that by 1994, Halsey Hall and most of Warner Hall changed possession to become classroom and office space for University students and professors. Nevertheless, parts of Warner Hall are still maintained by Midshipmen and donors: the Bret O. Hines Memorial room was dedicated in 2000, and serves as a computer room for midshipmen. Grills and picnic tables were added to the observation deck, compliments of the NROTC graduates of 2005, and a workout area in one of the wings of Warner, dubbed "the Pit" serves as an outdoor gym for midshipmen throughout the year.
From the first PNS, Commander Kelly, to the current PNS, Captain Rovenolt, Virginia's NROTC has produced outstanding naval officers. Since its first graduating class of midshipmen in 1943, more than 2,150 midshipmen have received commissions through the UVA NROTC program.